Been on and off SAITAMA in the past but this project didn't really attract my attention despite the incredible marketing efforts they made….however, being stuck with the same mentality kills your mind, and especially a traders mind. So with the help of one of our most notorious members (@Tabaza82) we dove deep into the metrics of the the coin and tried to get a logical SAITAMA price prediction.
First of all a word of warning. Any coin can be rugged in one way or another if the founders want to take this road. We strongly advise that you do not ape into projects that you do not fully understand.
Saitama Inu Facts:
1 – The market cap to twitter follower relationship.
When you want to check the potential of a crypto project and after having done your due dilligence on the fundamentals, the first thing you would check is the market cap and the way it is positioned in regards to it's competitors.
We need to pick a potential competitor in order to compare this correctly so for this example we picked SHIB(Shiba Inu).
And because this type of project is governed by social coverage we are going to invent a new metric marketcap/twitter following
SHIB market cap: $11,169,757,923
Twitter followers: 2.7M
MC/TW = 4136
SAITAMA market cap: $1,372,459,961.27
Twitter followers: 341k
MC/TW = 4024
So which is good and which is bad? In order to clear this up a bit more we went ahead and calculated the MC/TW for SOLANA at 21.682 . Now , yes SOL is a chain has real fundamentals and is not comparable in any way with the two above, but the MC/TW score gives you an idea of what is high and what can be achieved on higher levels.
Still lost? Let me clarify. SAITAMA achieved 1/10 of SHIB's Market cap with roughly 8 times less following on twitter but can the MC and the TW go up ? The short answer is yes, simply because this type of project benefits from the snowball efect.
In current conditions the saitama twitter account is growing at a mean rate of 116k users per Month, knowing this we can project to say 6 months later. Therefore we would get 6*116=696k more twitter followers in July 2022 (theoretical value) for a total of roughly 1M followers.
So if SAITAMA has a MC/TW of around 4000 and we will have a following of 1M in six months , this can also mean that we would have a market cap that will also go x3 leading us to a potential market cap of around $4Bln. I our opinion this is achievable.
Who says x3 MC says roughly the same increase in price so we can expect the price to increase three fold in the space of 6 months in the current market conditions.
2 – Holder numbers
We are approaching a holder level that would be attractive to a potential listing on Binance. In this article CZ_Binance reveals that a key factor for selecting coins that are going to be listed on Binance is the number of users.


3 – Total supply and circulating supply

56% of the total supply has been sent to a dead contract and no apparent whale is able to drop the market singlehandedly, this positive aspect further confirms that the MC/TW ratio may make sense in the future.


4 – Technicals
We talked about potential growth percentages in recent posts on telegram , they actually measure the potential from the current price position to the last known notable high. In the case of SAITAMA it is at 546% , sitting on the high side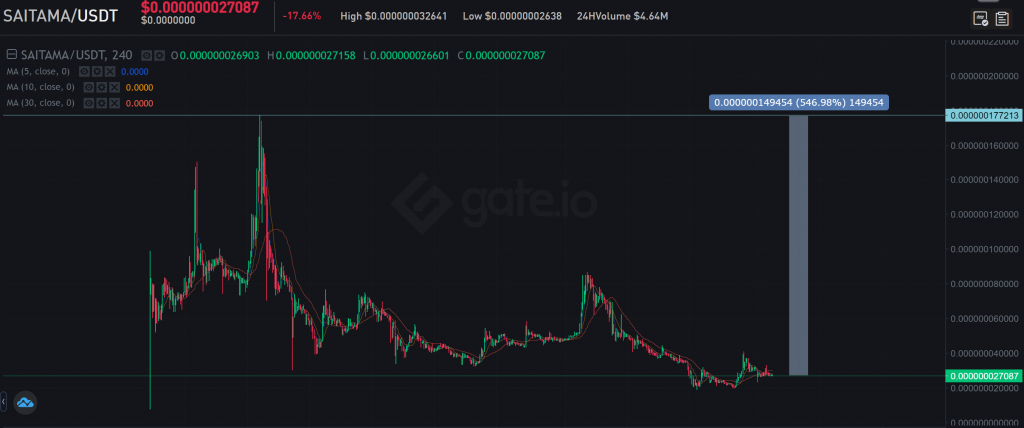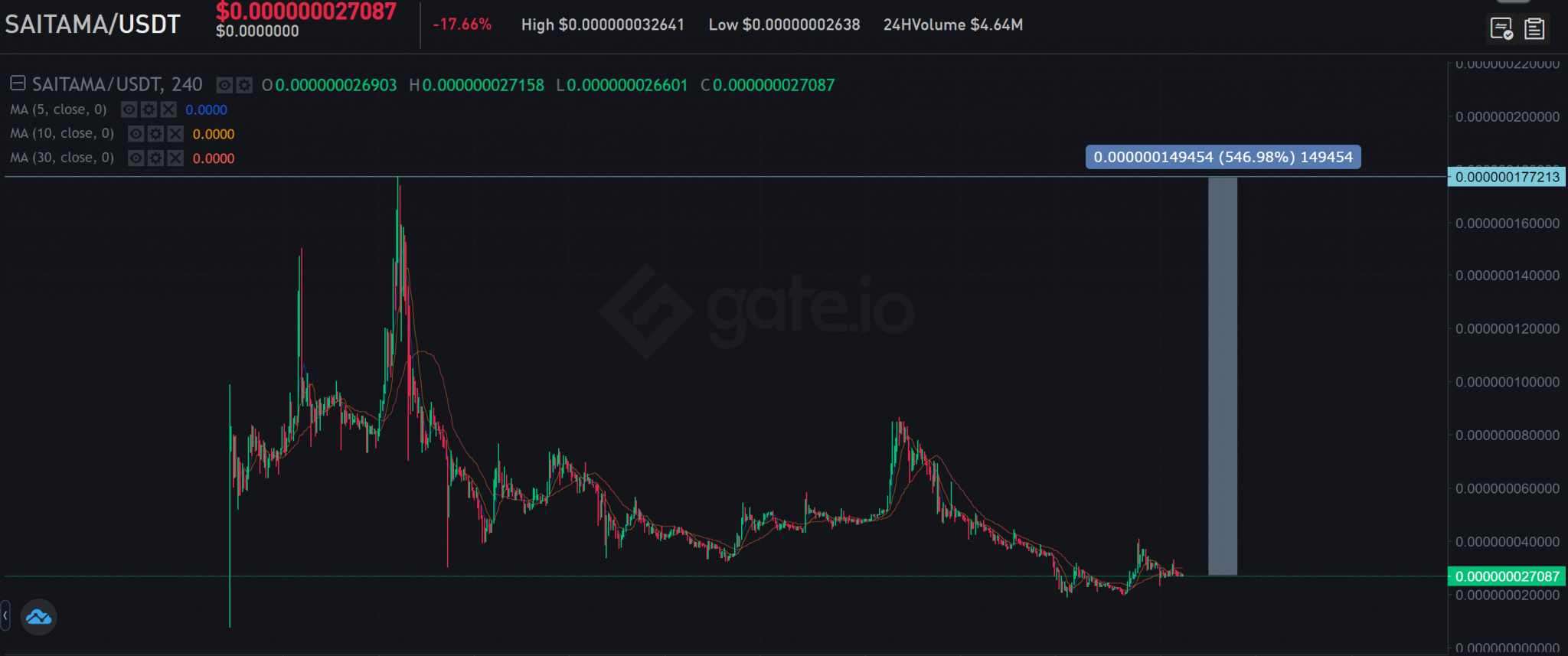 Ending thoughts
Saitama Inu isn't the only cryptocurrency that has the potentials that we talked about in this article and there is always a risk of it to lose social momentum and slowly die, but we think that with our deep analysis you can make your own mind wether SAITAMA is worth it or not. Technically we are experiencing a bear market and there is no perfect entry , so if you want to enter this coin we recommend using DCA.
Summary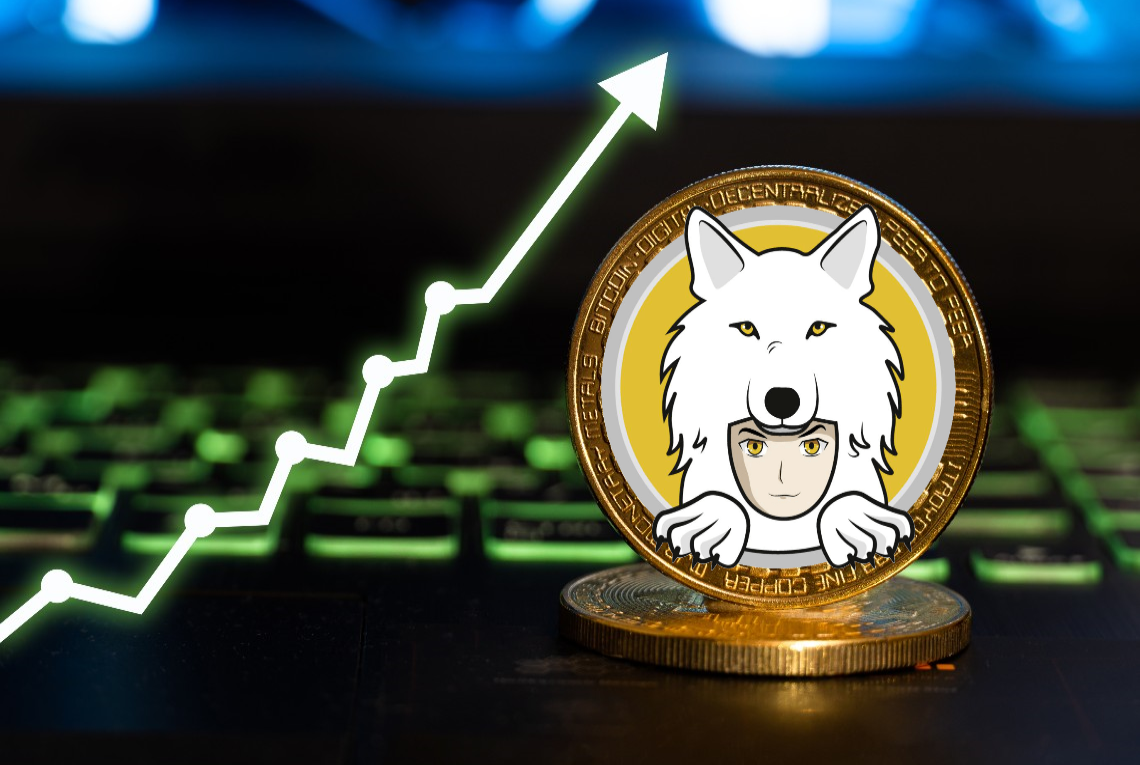 Article Name
Saitama Inu analysis - where will it be in 6 months
Description
Saitama inu has growth potential , here's how we tried to predict the future of SAITAMA using price history, the market cap and some other metrics
Author